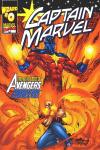 Rating: 9 / 10
Full Credits
"Halftime"
Writer: Peter David
Pencils: ChrisCross
Inks: Anibal Rodriguez

Brief Synopsis: Captain Marvel and Rick are experiencing hallucinations which leads to a run-in with Marlo.

Comments: A nice little introduction to the series that manages to get all the pertinent information out there, introduce the cast of characters and the first villain. Peter David's sense of humor is everywhere from the actor joke in the beginning to Genis' battle cry at the end, and ChrisCross' artwork was terrific as always. The only thing I didn't like about the issue was that you had to buy an issue of Wizard to get it.